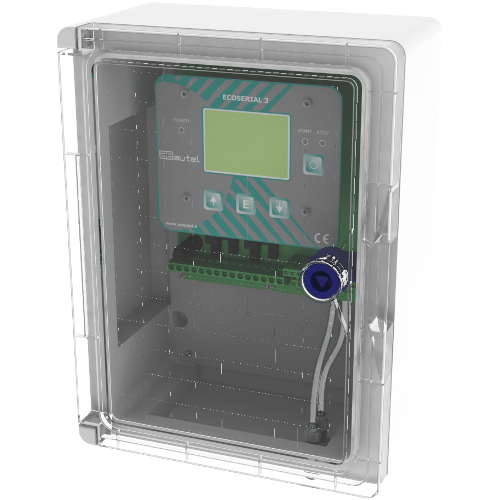 ECOSERIAL 3-ADVANCED SERIAL SYSTEM
Xuất sứ: Italy
Nhà cung cấp: Pitesco
Hãng sản xuất: Aeautel
Liên hệ tư vấn
ECOSERIAL 3
The most complete, flexible, versatile and advanced controller for the management of large plants.
The Ecoserial3 is a device created for the management of the most complex and articulated filters. These plants usually require a considerable flexibility in the control of all the working parameters. The controller commands new generation pneumatic pilot boxes, called RPA-612..
Ecoserial3 has three serial port RS485 isolated and independent, to which it is possible to connect up to 64 RPAs, a PLC for data monitoring and a GDMm instrument for dust emission monitoring.
Ecoserial3 and RPA communicate through line RS485 with a modbus protocol RTU. The user can manage the clearing cycle "in situ", or rather directly on the interface panel Ecoserial 13 or with a remote system, through line RS485 with protocol Modbus.
Main Features

Features

Values

Dimensions

External Dimensions ( L x H x W mm )

254x200x135

Weight (kg)

2,6

Protection

Protection Level (standard)

M IP55 / F IP56

Temperature

Working Temperature (°C)

-20... +60 vers.CE (OPT -40°C), -40... +65 vers. UL

Power Supply

Power Supply Range (standard)

90-270Vac 50-60Hz

Power Consumption

10W

Display

Display Type

LCD

Resolution

128x64

Display Color (standard)

yellow-green

Inputs

Digital Inputs (nr)

4 opto-isolated inputs

Pressure Input

ok

Pressure Range

0/+9999mmH2O, 0/+9999Pa, 0/+9.999kPa, 0/+99.99mBar

Analog Input

optional

Outputs

Relay Outputs (nr)

4

Relay Output Power

8A/270Vac

4-20mA Output

optional

Functions

Cyclic Management

ok

Delta Pressure Management

ok

Customizing Cycles

ok

Remote Start/Stop

ok

Autopause

ok

Post-cleaning

ok

Cleaning cycle

ok (custom)

Coils can be activated simultaneously for each output (nr)

128

Broken Coil Control

ok

Broken Valve Control

ok

Pressure Tank Control

ok

Broken Bag Control with D.Probe

ok (advanced)

SMS Remote Control

ok

Serial Ports

RS485

ok

System

Maximum Driver Managed

64 RPA / 16 RPC

Type

MASTER

Type of driver connectable

RPA/RPC

Type of control driver

SERIAL

Management cell

ok

Controls

Buttons (nr)

4

Application

Type

Big Process dust collectors