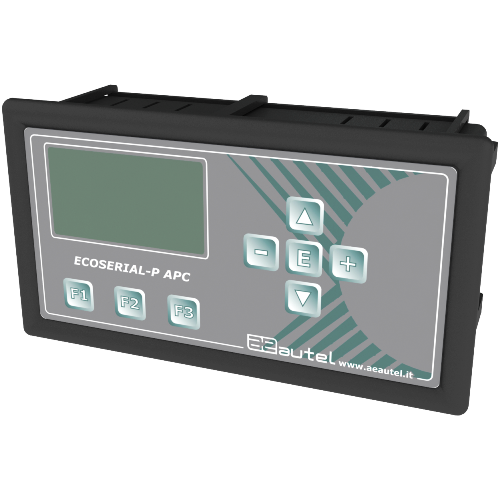 ECOSERIAL P -The Evolution of the ECOSERIAL-1…with a lot more features, Autel Vietnam, Aeautel Vietnam
Xuất sứ: Italy
Nhà cung cấp: Pites
Hãng sản xuất: Aeautel
Liên hệ tư vấn
ECOSERIAL P
The Evolution of the ECOSERIAL-1…with a lot more features.
ECOSERIAL-P is an economizer with built-in differential pressure gauge, able to control up to 30 Remote Pilot Box modules.
It is equipped with a LCD display, through which it is possible to check, in real time, the differential pressure, the end cleaning and start cleaning thresholds, the high pressure alarm threshold, the value of DeltaP with unit of measure, the number of the last EV shot, countdown timer with seconds before the next shot, the next EV number, current operating mode, alarm messages or System OK.
The Remote Pilot Box are controlled by the central unit and, one after the other, until the last element of the series and then it starts again from the first one.
ECOSERIAL-P also features a hour-counter and cycle-counter is able to recognize the presence of the outgoing general charge and to control the charge on every single cleaning valve.
The instrument, properly connected to a GDM-1 or SDM-1 dust meter, is able to detect the broken sleeves in the cleaning filter and to visualize the number of the valve corresponding to the range of the sleeves, which caused the peak of dust's alarm. On demand, the instrument can be equipped with a 4-20mA or serial RS 485 outputs, to communicate with PCs or PLCs. It is available both for external installation and on the control panel's front door.
Main Features

Features

Values

Dimensions

External Dimensions ( L x H x W mm )

189x103x76,7

Protection

Protection Level (standard)

Panel Installation IP56

Temperature

Working Temperature (°C)

-10... +60

Power Supply

Power Supply Range (standard)

90-270Vac 50-60Hz

Power Supply Range (optional)

24Vac/Vdc

Power Consumption

40W

Display

Display Type

LCD

Resolution

128x64

Display Color (standard)

Amber

Inputs

Digital Inputs (nr)

5 opto-isolated inputs

Pressure Input

ok

Pressure Range

-99/+999mmH2O

Outputs

Relay Outputs (nr)

4

Relay Output Power

10A/250Vac, 10A/30Vdc, 5A/250Vac, 5A/24Vdc

4-20mA Output

optional

Functions

Cyclic Management

ok

Delta Pressure Management

ok

Customizing Cycles

ok

Remote Start/Stop

ok

Autopause

ok

Precoating

ok

Post-cleaning

ok

Cleaning cycle

ok (standard)

Broken Coil Control

ok

Broken Bag Control with D.Probe

ok

Serial Ports

RS485

optional

System

Maximum Driver Managed

26 RPB

Type

MASTER

Type of driver connectable

RPB

Type of control driver

BUS

Controls

Buttons (nr)

10

Application

Type

Dust collectors