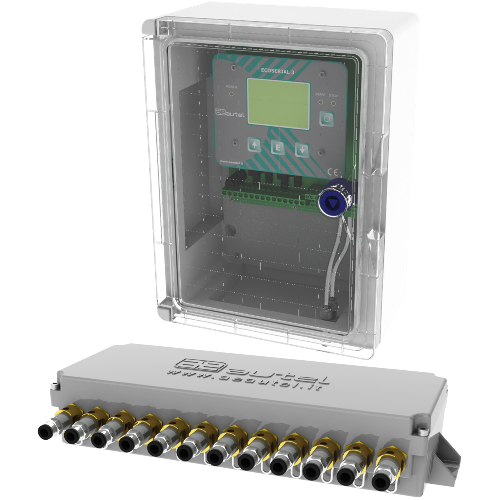 COMPLETE SYSTEM ECOSERIAL3 + RPA-612 Autel Vietnam, Aeautel Vietnam
Xuất sứ: Italy
Nhà cung cấp: Pites
Hãng sản xuất: Aeautel
Liên hệ tư vấn
COMPLETE SYSTEM ECOSERIAL3 + RPA-612
The most complete, flexible, versatile and advanced controller for the management of large plants.
The combination of Ecoserial 3 and RPA allows you to manage your own filter in total autonomy, without any constraints imposed by the controllers most commonly used, and allowing the user to remotely control all the parameters on your PC. The ones listed are just some of the features that this system can offer. It is also possible:
to set cleaning cycles with sequences freely programmable via Modbus;

to do multiple shots;

to monitor mechanical problems on the valve (pilot or diaphragm damages);

to control power consumption of the solenoid;

to control broken bags (with an Autel triboelectric probe);

to control air leaks in the tank and automatically exclude it from the cleaning cycle.