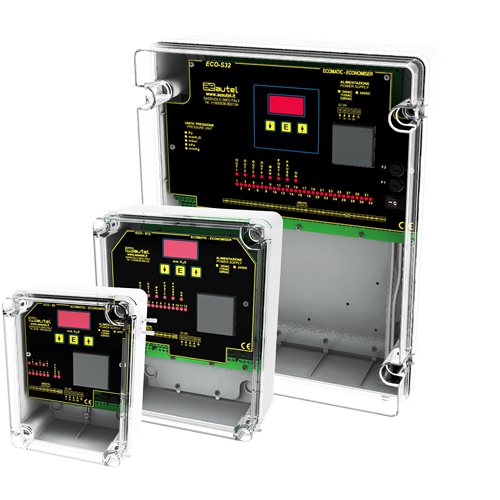 ECOMATIC S Autel Vietnam, Aeautel Vietnam
Xuất sứ: Italy
Nhà cung cấp: Pites
Hãng sản xuất: Aeautel
Liên hệ tư vấn
ECOMATIC S
Classic Method, state-of-the-art performances: basic functions to manage the cleaning cycle, with hour counter and cycles counter.
Economisers in the ECOMATIC-S range are digital sequential timers with built-in differential pressure
switches and are able to control from 4 to 96 solenoid valves respectively.
In all versions there is a display with 3 digit that can display the most important features and it is possible to programme the various and customizable internal parameters with the 3 buttons on the panel.
The states and functions are displayed by the lighting of LEDs on the front panel of the instrument.
The controllers with AC power supply are able to control both electronic valves with AC input and electronic valves with 24VDC.
Each model is supplied in polycarbonate enclosures with transparent lids and IP56 protection rating.
On demand, the ECOMATIC-S instruments can be provided of an ACTIVE analogical output proportional to the pressure read by the sensor.
Main Features

Features

Values

Protection

Protection Level (standard)

IP56

Temperature

Working Temperature (°C)

-10... +50

Power Supply

Power Supply Range (standard)

24Vac/115Vac/230Vac 50-60Hz

Power Supply Range (optional)

22... 34Vdc

Power Consumption

50W

Display

Display Type

7-segment display

Resolution

3 digits

Display Color (standard)

Red

Inputs

Digital Inputs (nr)

1 opto-isolated inputs

Pressure Input

ok

Pressure Range

-99/+999dPa, -99/+999mmH2O, -9.9/+99.9mBar, -0.99/+9.99kPa, -7.5/+75.0mmHg

Outputs

Relay Outputs (nr)

1

Relay Output Power

2A/115Vac

Coils Control Voltage

24Vac, 115Vac, 230Vac or 24Vdc

4-20mA Output

optional

Functions

Cyclic Management

ok

Delta Pressure Management

ok

Precoating

ok

Post-cleaning

ok

Cleaning cycle

ok (standard)

Coils can be activated simultaneously for each output (nr)

2

System

Maximum Driver Managed

4... 96 electrovalves

Type

MASTER

Type of driver connectable

electrovalve/SPV

Type of control driver

triac outputs

Controls

Buttons (nr)

3

Application

Type

Regular Small, Medium and Big size dust collectors