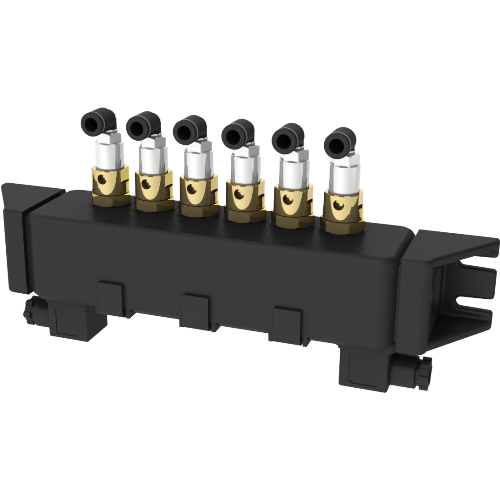 STR SERIES Controller autel Vietnam, Aeautel Vietnam
Xuất sứ: Italy
Nhà cung cấp: Pites
Hãng sản xuất: Aeautel
Liên hệ tư vấn
STR SERIES
Probably the simplest and cheapest controller in the market!
The device STR-2-6 is a simple and cheap cyclic timer, from 2 to 6 outputs, compact and reliable for small dust collectors. The simplicity of installation and use is its main strength. To connect the outputs of the instrument to the pneumatic valves on the filter it is enough to use a normal RILSAN 6x8 mm pipe. The cabling costs are limited only to the power supply. The setting of the functioning cycle (pause time and work time) is made by a special trimmer and a rotary switch available through a transparent removable window.
STR can control up to 6 valves. When you need to control a higher number of valves you may use STR-R that are able to drive expansion called REC.
STR allows also to clean the valves only when the pressure inside the filter overcomes a set threshold. In the same way the cleaning stops when the pressure comes down the programmed value. To have this additional function, it is enough to connect a differential pressure gauge as our DPF-15E to the terminals 3-4 of STR.
Model STR-R2-EX, Model STR-R5-EX, Model STR-R3-EX, Model STR-R6-EX,
Model REC-R2-EX, Model REC-R5-EX, Model REC-R3-EX, Model REC-R6-EX,
Main Features

Features

Values

Dimensions

External Dimensions ( L x H x W mm )

305x65x63

Protection

Protection Level (standard)

IP65

Temperature

Working Temperature (°C)

-10... +50

Power Supply

Power Supply Range (standard)

90-240Vac

Power Supply Range (optional)

24Vac/Vdc +/-10%

Power Consumption

25W

Inputs

Digital Inputs (nr)

2 (STR), 1 (STR-R)

Outputs

Coils Control Voltage

24Vdc

Functions

Cyclic Management

ok

Post-cleaning

ok

Cleaning cycle

ok (standard)

System

Maximum Driver Managed

9 REC (STR-R)

Type

MASTER

Maximum number of coil

6

Type of control driver

BUS