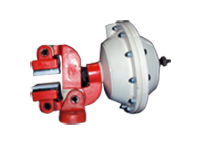 Pneumatic Failsafe Disc Brakes Model KA-PF-320
Xuất sứ: India
Nhà cung cấp: Pitesco
Hãng sản xuất: Kateel
Liên hệ tư vấn

Ms Thanh

thanh@pitesco.com

0914.432.418

hongthanh86
Steel Industries.
Cable Industries.
Paper Industries.
Wire Drawing Machine.
Tyre Industries.
Textile Machineries.
Text Rigs.
Special Purpose Machines.
Ka-pf-320 is used with a brake disc of thickness 12.7 mm. The Kateel range of pneumatic brakes uses dry and compressed air at pressures up to 7 bar. These pneumatic brakes require a control valve which may be operated manually / by electric signal

.