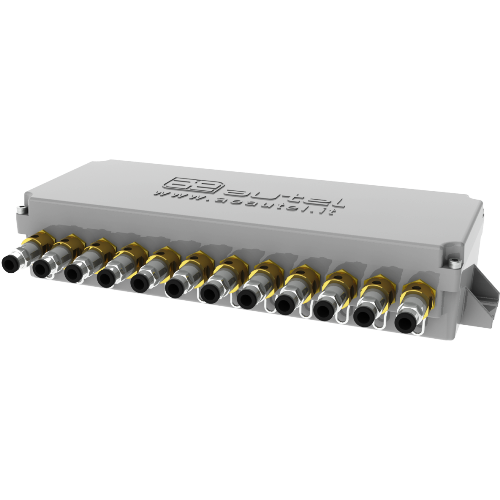 PILOT BOXES SPV Autel Vietnam, Aeautel Vietnam
Xuất sứ: Italy
Nhà cung cấp: Pites
Hãng sản xuất: Aeautel
Liên hệ tư vấn
PILOT BOXES Model SPV
The best way to organize the wiring with classic electrical controllers.
The SIMPLE PILOT VALVES is a new generation of painted aluminium pilot box usable to control and manage pneumatic valves.
The box can be provided from a minimum of 4 to a maximum of 12 pilots.
As an option, it can be provided with an heating system controlled by an internal thermostat, working at temperatures of less than 5°C. With the heating system the controlled is allowed working up to -40°C.
It is usually combined with an Ecomatic economizer: electrical impulses coming from the instrument command (in sequence) coils placed in the box and activate the pneumatic pilot. Each pilot is connected via Rilsan tube to the upper chamber of the valve of the tank and at each pulse commands the pneumatic valve.
This box are provided of M20 and two M16 cable glands.
It is possible to demand more cable glands or special cable glands, according to customer's specification.
The modularity and versatility combined ECOMATIC - SIMPLE PILOT VALVES is the perfect solution for any type of filtration plant.
Main Features

Features

Values

Dimensions

External Dimensions ( L x H x W mm )

346x134x72

Protection

Protection Level (standard)

IP66, TYPE 4X

Temperature

Working Temperature (°C)

-40... +60

Power Supply

Power Supply Range (standard)

24Vdc, 24Vac/115Vac/230Vac 50Hz

Power Consumption

24Vdc 5W, 24Vac/50Hz 5VA, 115Vac/50Hz 5VA, 230Vac/50Hz 5VA

Functions

Cyclic Management

ok

System

Type

SLAVE

Maximum number of coil

12